4 October 2018
Waves for Change – Site Manager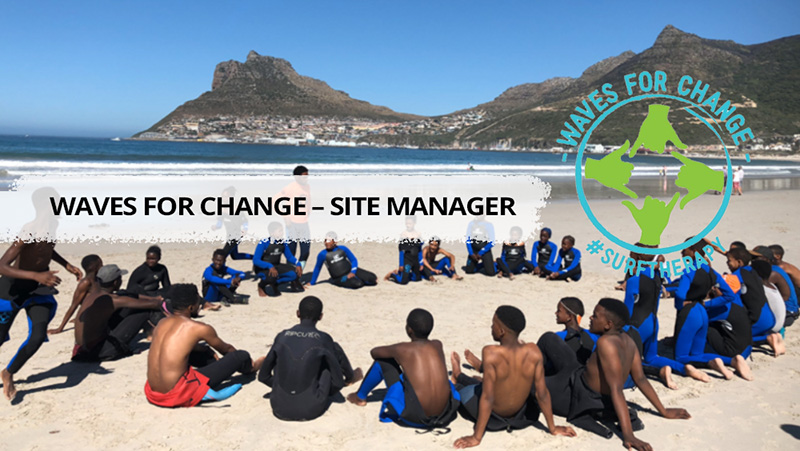 Waves for Change – Site Manager – Job role
Start Date: 3 Jan 2019
Applications OPEN (Until 15 October 2018)
Waves for Change is recruiting for the role of Site Manager (CT Sites)
Waves for Change (W4C) provides a child-friendly mental health service to vulnerable and differently abled young people living in unstable communities. Through connections to safe spaces, caring mentors, and a 12-month weekly Surf Therapy curriculum, W4C gives children skills to cope with stress, regulate behaviour, build healing relationships, and make positive life choices.
The young people W4C works with are exposed to repeat trauma, and adversity, lack supportive adults, feel negatively about themselves, and adopt challenging behaviour patterns, reducing their life chances. W4C Surf Therapy combines evidence-based mind and body therapy with the rush of surfing to improve mental, physical, and social health outcomes.
W4C supports, trains, and resources community-based mentors to lead the Surf Therapy programmes. Across six sites in South Africa and Liberia, W4C reaches more than 1,000 young people every week. Mentors are given two year coaching contracts, ensuring consistent programme delivery whilst also improving local childcare infrastructure and job readiness of mentors, allowing them to find job opportunities post training.
Job Purpose and Scope
To provide a quality education and beneficial program to all participants. To ensure that senior and junior coaches deliver day to day activities, events and ensure safety regulations are met during the delivery of the program. Ensure the smooth running of programme at your respective site and within the community. Meet all monitoring and evaluation expectations including, attendance targets, submission of interviews and evaluations. Ensure that HR policies and procedures are enforced managed within the team.
Minimum Qualification: Grade 12/NQF 04
Preferred: Tertiary qualification and at least 2 years' experience in a similar role
Reporting Lines: Programme Team (Programme Manager)
KPI's: Duties / Activities include, but are not limited to:
Manage own and coaches case loads and 1:1's
Referral of severe cases
Assist coaches with needs at the beach
Managing/Coordination of participant consent forms and pre/post tests
Organising home visits/parent meetings and parent interview when required
School meetings and teacher info sessions
Community Mapping: NGO outreach and community awareness drives
Deliver weekly curriculum training
Attend and co-facilitate weekly coach debriefing sessions
Deliver/oversee delivery of sessions daily
Child and coach attendance – Data Inputting
Run weekly Site meeting
Coach performance evaluations
Coach recruitment
Communication: Office, Drivers, Schools, Partners
Site Maintenance: equipment, cleaning, shifts, schedules, transport, food
Daily planning and daily debrief, before and after sessions
Mentor Elders, Junior coaches and Senior Coaches and assist with conflict resolution
Weekly site assessment and weekly check in with Programme Manager
Site Budget and expenses
Executing Code of conduct, Child protection policy
Identifying organisational misconduct
Performance Indicators include, but are not limited to:
Attendance for Site
ALL Targets met
Record keeping and reporting
Coach and team performance
Community Mapping and Networking
Changing lives, one wave at a time….
PLEASE NOTE:
Applications to be sent to recruitment@waves-for-change.org – please send your CV and cover letter, motivating your application
Should you not hear a response from us by the end of October, you may consider your application unsuccessful.