17 December 2014
Waves for Change closes 2014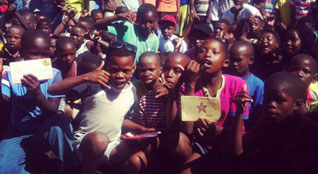 Waves for Change closes formal 2014 programming with Marcel's Frozen Yoghurt.
Last week we brought an end to formal programming at our Muizenberg and Khayelitsha drop-in centres with Christmas parties hosted by our partners Marcel's Frozen Yoghurt.
Over 250 Waves for Change participants attended the day long events that included the exchanging of Christmas Cards, Singing of Carols, lots of surfing and good will to end a year of Surf Therapy in the Cape. Courtesy of Marcel's, every participant left with a couple of tubs of Frozen Yoghurt and a big smile.
Official programming is now formally closed for 3 weeks, allowing our youth care workers time to unwind and spend time with family. Informal surfing sessions will however continue.
We look forward to seeing you all again in 2015. Waves for Change programme staff will return on the 5th Jan with programming opening on the 14th.