13 April 2015
W4C's Apish named in '10 Activists leading the way"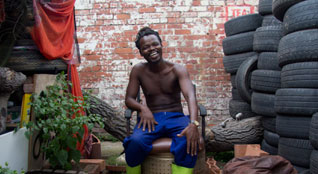 W4C's Apish Tshetsha has been names on of 10 Activisits leading the way by Mahala magazine.
Apish was one of the founding members of the Waves for Change movement, launching surf therapy programmes in his home township of Masiphumlelele back in 2011. At the time unemployed and out of school or training, Apish took it upon himself to learn the necessary skills to bring W4C's fusiong of surfing and child and youth care work to the streets of his home community. Now, 4 years later, over 150 young people from Masi have completed a W4C course. Apish also holds accreditation as a Surf Lifesaver, Surf Coach, Child and Youth Care Worker and runs his own surf school – AMAZA.
Apish is also a REEF South Africa rider. Not bad for the first surfer EVER to emerge from Masi! Well done Apish!