11 November 2015
W4C in Lavender Hill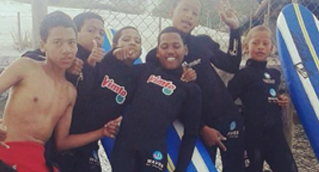 In January of this year we were asked to open programming for Lavender Hill. For those that don't know Lavender Hill, it's a community set about 1km back from Muizenberg Beach on the southern shores of Cape Town. It's an assortment of 1960's concrete 'courts', multi-story apartments set around a communal 'court', and crowded blocks of shacks. The community is considered one of Cape Town's most volatile with consistent gun crime and gang violence driven by the drug trade.
Waves for Change works with communities to run programming in hard to reach areas. In January we set about recruiting local community members who had a history of youth work and community volunteering. By February we had met Michaylah, Mel and Jodine and recruited Ester, a local social worker, to provide some additional capacity. The guys joined our other community teams from Masiphumelele and Khayelitsha at our regular weekly trainings and mentoring sessions, lead by our team of child psychologists and councelors.
By the end of March, the Lavender Hill team were in schools working with teachers to identify children who were struggling most to cope with life in the area. Young people in Lavender Hill experience up to 15 highly traumatic events per year (in the U.S, average exposure to such events is 4 in a lifetime). Many children exhibit symptoms of emotional distress, primarily hyperactivity, anxiety and depression. This impacts their ability to control their behaviour, participate in school and contribute meaningfully to their communities.
Working with the teachers, 100 children were split into three cohorts. Twice per week, Mel, Jodine, Michaylah and Ester met the kids at school and started the Waves for Change psycho-education programme. The programme combines surfing, support groups, home and school visits with additional mentoring to develop the emotional wellbeing of young people. Working with the University of Cape Town, we mapped the development of these young people against a group of young people who had been referred onto our waiting list. Now at the year's end, we've found children exposed to Waves for Change have shown improvements in hope, self-regulatory behaviour and improved peer relations, whilst our waitlisted children have shown no improvement. In short, the programme is working. Our wait-list will start surfing this month.
With the support of our funders, we've been able to increase the training we can offer to Mel, Jodine and Michaylah. We've partnered with the National Association of Child and Youth Care Workers who are providing the team with accredited training in Child and Youth Care Work. This will improve the service they can provide. For Michaylah, who didn't complete school, this also provides a vital national certificate that will improve her long-term chances of full time employment in the child protection sector.
Now November, Waves for Change is a growing presence in Lavender Hill. The foundations have been laid and there's more work to do, but we look forward to a successful 2016 with the team.
We'd like to thank Jodine Siegelaar for taking the pics for this short blog.  If you'd like to support the team, please consider contributing an old board, wetsuit, dropping food off at their container on weekends, or supporting Waves for Change with a monthly donation to cover the cost of their training.