27 January 2017
Riding waves – Creating jobs!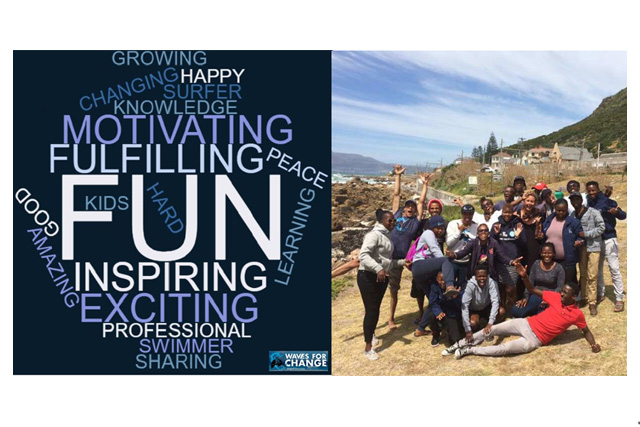 Creating Employment using Surfing in South Africa
In South Africa, youth unemployment is a real problem. In fact, 48.9% of Black African 20-24 year olds are not in employment, education or training (NEET)1. A surfing non-profit organisation in South Africa, improves lives of young children by employing local young adults as surf coaches and mentors.
Waves for Change (W4C) is a sport for development organisation, uses surfing and mentoring to promote the wellbeing of high-risk children from local disadvantaged communities. The organisation, founded in 2011 with 15 children and two coaches, has grown to over 400 children per week and 30 coaches across 5 sites.
Coaches are employed to mentor children in the surf therapy program and, in get the opportunity, through on-the-job training, to build knowledge, skills and attitudes (KSAs) required in the field of youth care. Due to the high NEET rate W4C, takes pride in employing and training local NEETs to be coaches instead of relying on foreign volunteers.
All coaches come from the same communities as the children and are exposed to the same adverse conditions. W4C provide the coaches with a weekly debrief session with a counsellor, access to a registered counsellor and trauma counselling certification.
Surveys at the end of 2016 indicated that:
63% of coaches "LOVE" their work; 26% "ENJOY" their work; 11% "DON'T MIND" their work
95% of coaches say W4C has improved their skills/qualifications
89% of coaches say W4C has improved their professionalism
83% feel that they are able to apply for meaningful work as a result of W4C
90% of coaches are satisfied with their team's performance
45 External qualifications were obtained by W4C coaches in 2015/2016
The coaches create networks in the community by visiting homes and delivering teacher training sessions at local schools. Interacting regularly with the key caregivers in the children's lives ensures a holistic engagement with participants and promotes community support for the program. Improved relationships with the communities allow W4C to operate in sometimes violent and unstable areas. Below is an example of how parents remark on their engagement with coaches:
"Coaches give lots of experience and advice on how to treat the kids and not shout."
"Coach visits offer us support and monthly meetings give us time to share."
– Khayelitsha parents, 2016.
Watch this space! Exciting new partnerships with Mercedes-Benz and Innowind created two new Waves for Change sites outside of Cape Town, in East London and Port Elizabeth. Already the sites employ two new site managers and 9 coaches!
Quarterly Labour Force Survey (2016). Statistics South Africa.