17 December 2014
New Drop-In Site in Muizenberg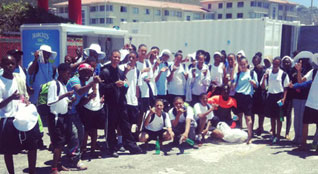 Waves for Change opens a new drop-in site in Muizenberg
We are stoked to announce the opening of a new Waves for Change drop-in centre at Muizenberg beach. Mirroring the successful model deployed at Khayelitsha's Monwabisi beach, the centre is based from a converted shipping container with trained child and youth care workers offering up to 8 hours of surf therapy programming to referred youth each week. At present, the centre serves youth from Masiphumelele, Lavender Hill, Vrygrond and Capricorn communities.
We would like to thank our partners at the City of Cape Town for making this possible and our friends at Wavescape, Club Travel, Red Het Talent and our community of global donors for allowing us to purchase, convert and kit out the container.
We expect to reach 100 youth per week from the centre as of January 2015, employing 8 child and youth care workers.