2 August 2012
Laureus Sport for Good Foundation Bring the Stars To Waves For Change Monwabisi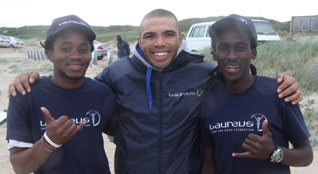 Tuesday 31st July saw the first official visit to the Waves for Change programme from our partners at the Laureus Sport for Good Foundation. Held at Monwabisi beach, the day involved a visit from international explorer Mike Horn and his 35 young explorers drawn from all the corners of the globe. Mike is a Laureus ambassador and is currently involved in a circumnavigation of the globe on his 35m yacht Pangaea. Along with Mike was fellow ambassador and SA Rugby star Bryan Habana and Laureus Chairman Morne du Plessis.
Laureus have supported Waves for Change since our beginnings in April of 2011. Through our partnership, we have seen Waves for Change develop from a grassroots programme into a fully fledged, community owned sport for development programme, using surfing to fight HIV and develop young leaders in some of South Africa's largest townships.
The day saw Mike's 30 young explorers join in beach and surf games with 30 W4C participants from Esangweni high school. Lead by Apish, Bongs, Magesh and Sam the day was a great success. Despite the weather, we lasted well into the winter gloom with the day ending at 6pm with a large braai under the weathered stands at Monwabisi. Our thanks to Gita, Marvin and Prudence for their hard work in arranging the day. Thanks also to Mtesh for his last minute call up to the braai and the guys from Ikamva Marimba Band for providing the music.
Waves for Change remains a very proud partner of the Laureus Sport for Good Foundation and we look forward to seeing you all again soon.