14 February 2017
Waves For Change stoked to win Laureus Sport For Good Award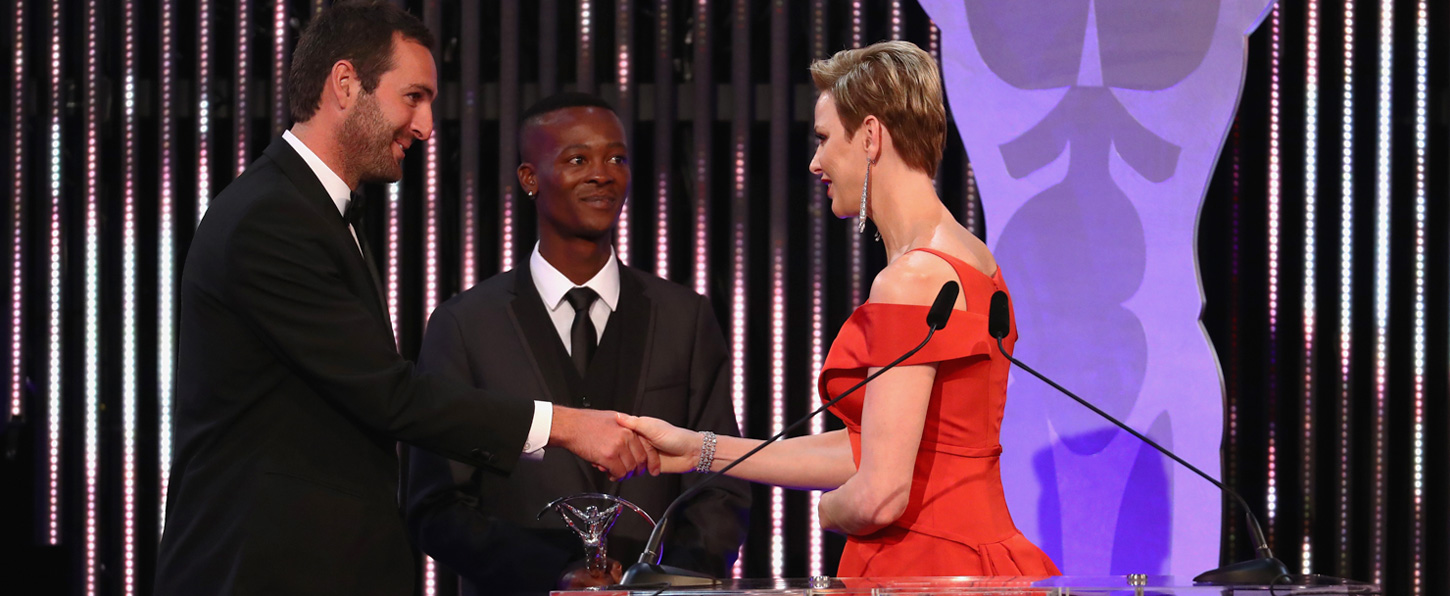 MONACO, 14TH February 2017 – Waves for Change (W4C) were honoured to receive the Laureus Sport for Good Award presented by HSH Princess Charlene of Monaco at the annual Laureus World Sport Awards.
The Laureus Sport for Good Award is awarded to an organisation or individual who, in the opinion of the members of the Laureus World Sports Academy, has used the power of sport to overcome violence, discrimination or disadvantage. The Academy believe W4C have made an outstanding contribution to society through the medium of sport; making a significant impact to the lives of young people through their surf therapy programme.
The Award was presented in front of a room packed full of the world's leading sport stars who rose to their feet to applaud the accolade. Collected by a delighted Tim Conibear, founding director of W4C, and Guyver Ngeyake, assistant site manager at the W4C Monwabisi centre, Tim spoke about the honour of receiving the award:
"On behalf of the Waves for Change team I want to say a huge thank you. The support Laureus has given us over the years has been invaluable, enabling us to develop the Waves for Change programme and establish surf therapy as a legitimate way to help children from unstable communities struggling with mental health issues. Having this recognition from Laureus reaffirms that what we are doing is working and inspires us to keep growing our efforts across the world."
Sean Fitzpatrick, Chairman of the Laureus World Sports Academy explained the Academy's decision:
"The work being done by Tim and his team at Waves for Change is inspirational to say the least. Disadvantaged youth who are in desperate need of support and direction are given a new lease of life through surfing. It's an incredible success story and my fellow Academy Members were inspired by the work of the programme."
W4C, which is supported by Laureus Sport for Good, is pioneering surf therapy as a way to help young people from violent and unstable communities cope with the stress of their lives. On average, the ratio of school social workers to children in these areas is 1: 30,000. Statistics also show that these children in violent and unstable communities are impacted by up to eight traumatic experiences per year, as opposed to an average of five per lifetime in the developed world. Post-traumatic stress is common among South African youth but the W4C programme provides safe spaces, access to caring adults and weekly surf therapy sessions which in turn builds confidence and self-esteem in the children who participate, helping making them resilient to the trauma they face.
Since 2011 W4C has reached over 1000 children and helped over 50 coaches achieve qualifications and skills in surf coaching, lifesaving, child protection, trauma counselling and computer training. When the programme first began, there were no female participants, now one third of the children taking part are girls. Surfing has since become one of the most popular sports in the township communities and young people are becoming mentally and physically healthier as a result. The success of the programme has seen the W4C operation expand from one site to six – five in South Africa and one recently launched in Liberia. W4C are dedicated to continuing the work they do across the globe, reaching communities where mental health services are under-resourced or stigmatized.
@WavesForChange #SurfTherapy