7 August 2013
Heading to Glasgow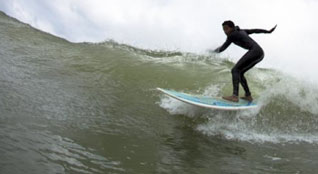 Bongs Blogs on Heading to Glasgow for 4th Commonwealth Sport for Development Conference
Looking back, I can safely say that I made a good decision emailing Tim asking to surf with him, just a few months before Waves for Change was launched as an NPO for vulnerable kids in the Masiphumelele Township. I can't find any reason to what drove me to start surfing as nobody in my family was a surfer or excelled in any water sports. Nonetheless, being a part of the founding members at Waves for Change was a defining moment in my life.
I definitely owe a lot of thanks to Waves for Change for giving me a space for personal development, Academic development and leadership growth. My personal growth has given me the opportunity to give back to the community so much more and at the same time be inspired by the change in the lives of all our participants
We were once just based in Masiphumelele; we have now grown to establish a new base in Khayalitsha. A new base which means we can train more coaches, teach more kids and be intrinsically involved in the development of future leaders in these communities. My personal dream would be to see the future leaders of Waves for Change coming from these eager participants. In turn, they will take Waves for Change into all corners of the globe and beyond.
So on Saturday I will be doing just that, I will be flying to Scotland in order to attend the 4th Commonwealth Sports Development Conference. This conference will focus on drafting a youth charter to ensuring the empowerment of the youth of the Commonwealth through sports. In summary, the visit will have a great influence on my personal development and also worldview within the sport for social development arena. I look forwards to this opportunity and I look forward to learning a lot from other organisations who are advocates for change globally.