28 January 2015
Following up with Lwandile – Can we surf ourselves to mental health?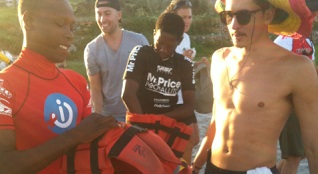 In 2014 we worked with NPR to bring you a story from within Waves for Change. The story focused on Lwandile and his struggles with Post Traumatic Stress following a traumatic upbringing in the community of Kuyasa in Khayelitsha.
In 2013, Lwandile discovered the ocean when Waves for Change brought the sport of surfing to Khayelitsha. In his own words, when he was at the beach 'I felt free, I only thought about the waves'.
In 2014, through the assistance of his mentors at Waves for Change, Lwandile was introduced to Monwabisi Lifesaving Club, where he qualified as a surf lifesaver. Over the Christmas holidays he found himself working on Camp's Bay beach, in the Cape City Bowl.
For many this might seem insignificant. But it bears reminding, two years ago Lwandile was in remedial class at school. He couldn't concentrate and couldn't sleep. His confidence rock bottom and he became involved in local street gangs, loosing his best friend in doing so. He couldn't swim and had never been in the ocean. Over the summer, he left Khayelitsha for the first time. He'd never been to the City Bowl and arrived as a lifeguard, earning a living for the first time.
We're proud to see Lwandile grow and to see him becoming involved in more and more community networks that can support his growth. We know surfing is a wonderful tool for healing but it also opens doors to so many new opportunities. It's why we use surfing as a tool for our interventions.
Each week we work with over two hundred young people in Lwandile's situation. You can support our work with a small donation to support the equipment and food costs that make our programmes possible.
If you feel like contributing, please go to our sponsor page.