11 January 2017
W4C is Recruiting – Business Development Director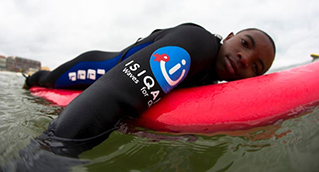 Do you want to join a growing Mental Health foundation taking Surf Therapy to Africa? This is an excellent opportunity to join a young, ambitious, award winning foundation.
Using the power of surfing to alleviate trauma
Title: Development Director
Focus: Grow funding & Increase W4C visibility
Supervisor: Waves for Change C.O.O
Location: Cape Town, South Africa (potential remote options for outstanding candidates)
Waves for Change Mission Statement: W4C provides child-friendly mental health services in communities where mental health services are under-resourced & stigmatized. W4C provides vulnerable children with caring adults, safe spaces, challenging tasks and surf therapy sessions, helping youth regulate behaviour, cope with stress, build healing relations and make positive life
choices.
Position Summary: As Waves for Change Development Director, you help Waves for Change expand the reach of its award winning Surf Therapy programmes to new communities across Africa.
You leverage a network of high value stakeholders to unlock new funding streams, doubling W4C income in year 1, tripling by year 3. This allows W4C to reach more children and train more coaches across Africa. You have experience developing partnerships with leading development agencies operating in youth development, mental health, gender, violence prevention & employment sectors. You use this experience to work closely with W4C MEL manager and C.O.O to review W4C impact data & develop new strategies to increase funding networks. Where possible, you leverage contacts in the development sector to assist W4C in sharing impact at conferences, in journals and online, growing visibility. As a key member of a successful NGO developing out of start-up phase, you contribute to strategic decision making relating to organisational expansion.
Primary Responsibilities:
Business Development
Use existing networks to triple W4C income in next three years, engaging partners in South Africa, UK and USA.
Lead W4C MEL Manager and C.O.O in funding applications to existing and new partners worldwide to increase W4C budget from 6 million ZAR to 18 Million ZAR over the next 3 years.
Global advocacy & thought leadership
Lead W4C MEL Manager & C.O.O to develop compelling impact presentations & abstracts for presentations at conferences, in journals, on print / online platforms worldwide.
Qualifications:
Demonstrated record of finding, securing, and managing funding
5 years Senior Leadership experience
Experience developing & managing successful grants through large development agencies (USAID / DFID / Ford / Gates)
Salary & Benefits: Competitive salary based on experience. Option to move to US Benchmarked salary subject to growth of W4C U.S Foundation.
To apply: Send CV and your approach for capturing three new funders to info@waves-for-change.org by February 15, 2017.