26 October 2015
Beyond Sport 2015 Winner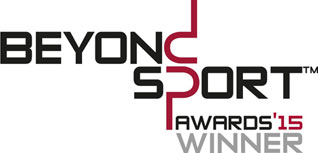 BEYOND SPORT AWARDS 2015 WINNERS ANNOUNCED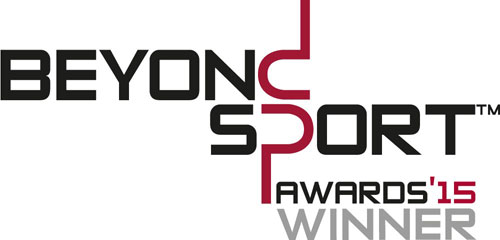 The work of the world's most inspiring and impactful sport for social change organisations was celebrated last night as the winners of the Beyond Sport Awards 2015, supported by Comic Relief, were revealed in London.
39 projects were shortlisted for the seventh annual Beyond Sport Awards representing 23 sports from over 60 countries. The UK Prime Minister David Cameron set the tone for the proceedings with a video message to the audience stating 'Day after day it's the stars on the pitch who make the headlines but tonight it is right to stop and pay tribute to you, the stars beyond the field of play, the people who show that by going beyond sport we can use the games we love to tackle some of the greatest social challenges in our world today.'
The Awards presentation kicked off with the Leadership in Sport Award, supported by Mischon de Reya, which was presented to Matthew Spacie for his incredible work with Magic Bus which uses sport-based activities to transform underprivileged children's lives.
Beyond Sport Global Partner Barclays awarded A Ganar, a youth workforce development program from the Dominican Republic designed to help break the cycle of poverty, with The Barclays Sport for Employability Award.
Corporate of the Year sponsored by Fortune, was awarded to New Balance for their support of GoodGym; the rapidly growing movement of runners doing hands-on good for their local communities.
Moving the Goalposts Kilifi deservedly picked up the UNICEF Safeguarding Children in Sport Award for the incredible work they achieve using football to support, empower and educate girls and young women.
Sports stars came out in force to recognise the great work being done by organisations off the pitch. Olympic Gold Medallist Mark Hunter presented Waves for Change with the Sport for Health Award for their work using surfing as a form of therapy for children in violent communities. Boxing legend Barry McGuigan awarded Fiji Volleyball Federation with Sport Federation Governing Body of the Year and Women's Rugby World Cup winners Emily Scarrett and Maggie Alphonsi MBE presented the Sport for Social Inclusion Award to Breaking the Silence Using Football.
UNICEF Kid Power were awarded the Innovation Through Sport Award by 2014 Ashes winner Ebony Rainford Brent. Double Paralympic and European Gold medallist Natasha Baker presented Fight for Peace with Sport for Conflict Resolution Award for their amazing work using boxing to support people affected by crime and violence and Green Sports Alliance with the Sport for Environment Award for their commitment in driving environmentally preferable practices within sport.
Celebrating an organisation that has shown great bravery in the face of adversity using sport as a platform, the Courageous use of Sport Award, powered by Jaguar Land Rover was presented by Rugby World Cup Winner Jason Robinson to Seren Fryatt, the Executive Director of L.A.C.E.S.,an organisation that used sport to educate and raise awareness amongst at-risk youths during the ebola crisis in Liberia. Fryatt dedicated the award to her staff who had the courage to fight the outbreak using football.
Other Award winners were Hijabs and Hat-tricks, Sport Against Racism Ireland (SARI) who received Best New Project for their work using football as a platform to ease the path for girls of Muslim faith into Irish society. The Sport for Education Award was presented to Figure Skating in Harlem who combine educational support and leadership training alongside the sport of figure skating to girls in Harlem facing generational poverty. San Francisco 49ers won Sport Team of the Year for the direct impact they have on the lives of thousands of children annually through their weekly hands-on community service programmes. The Humanitarian in Sport Award was presented to the Bundesliga for their unprecedented work opening their club stadiums to refugees and migrants in need.
Nick Keller, the Founder of Beyond Sport, said: 'Tonight's shortlist and winners demonstrate that sport can contribute solving many of society's issues. With the support and true collaboration from the corporate sector we can work together and change lives and communities to an astonishing level – I am very excited and proud to be a part of it.'
Each winning project will receive a bespoke package of support. All have received global recognition and will continue to benefit from in-depth profiling of their work through Beyond Sport's channels and global network. Since 2009, Beyond Sport has awarded over $5.5 million worth of business support and funding that has allowed over 150 winning and shortlisted projects grow and become sustainable in their field.
Beyond Sport's Global Partners are Barclays, TIME and UNICEF. For more information on Beyond Sport and the Beyond Sport Awards, visit www.beyondsport.org.
For more information please contact:
Hannah Fowles, Head of Marketing & Communications, Beyond Sport
T: +44 (0) 20 7240 7700
E: hannah@benchmarksport.com
Notes to Editors:
Beyond Sport is a global organisation that promotes, develops and funds the use of sport to create positive social change across the world. We do this primarily through…
Beyond Sport Awards
The Beyond Sport Awards programme provides support worth $3 million annually to projects across the world that use sport to address issues within their communities.
Beyond Sport Events
Beyond Sport holds multiple gatherings and events throughout the year in different cities across the world focusing on various issues, sectors, and stakeholders, addressing how sport can be used to create positive social and business outcomes. Beyond Sport's flagship and largest event is the annual Summit & Awards, which brings together the best sport-led social innovators with influential, global leaders to address sport's role in driving positive social change. The Beyond Sport Summit 2015 will be held in London from 19th–21st October. Other events Beyond Sport holds regularly are:
Beyond Sport United – held in New York and backed by the US major leagues – MLB, MLS, NBA, NFL, NHL and WNBA – which brings teams and leagues from around the world together to discussion how they can benefit from better engaging with communities and philanthropy
Beyond Soccer – powered by streetfootballworld and backed by MLS, it convenes leaders in the football industry around how the world's most popular sport can serve more as an engine for societal change
Beyond Sport Leadership Series – supported by Mishcon De Reya, this event looks at the current challenges, issues and developments around leadership and ethics in sport
Multiple events take place throughout the year, held jointly with Beyond Sport partners and stakeholders.
Visit www.beyondsport.org for more information.
@BeyondSport