27 March 2013
A Poem for Her Coach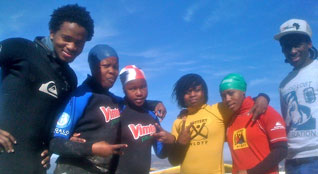 W4C Participant Noncedo Mabhunu – A Poem for Her Coach
Waves for Change is a community project, lead by trained community coaches from areas where surfing and surf culture has never previously existed. The first surfers ever to emerge from their communities, Waves for Change coaches are trained to make vital and life-changing connections with their participants, all from South Africa's most at-risk communities. Surfing merely serves as a tool for this process. Here's what Waves for Change Masiphumelele student Noncedo Mabhunu has to say about her coaches Bongani Ndlovu and Apish Tshetsha.
As a surfer i am happy you're my coach.
I enjoy every lesson you teach
as a role model of Waves for Change
you inspire me
to dream, to work hard and with your kindness
you get my attention everyday, planting a seed of curiosity
and motivation
to know and to grow and succeed.
You help me fulfill my potential.
I'm thankful for all that you've done
i admire you each day, I just want to say
as a coach, you are number 1.
What you taught me will not grow out
your kind attention touched my mind.
I hope you know i am thankful.
Thank you for being my coach.